Explore Canada's Top 5 Landmarks for an Unforgettable Trip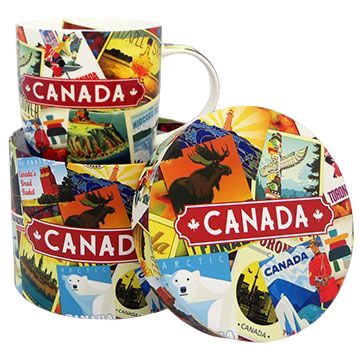 Canada Gift Mug - Famous Landmarks Collage
Unique Design: Famous landmarks printed on both sides. Retro collage design. Comes with a gift box.
Durable and Safe: 11oz mug with C-handle allows easy use and if of top-quality. Highly durable, microwave and dishwasher safe.
A Perfect Gift: Perfect for hot or cold beverages. A great souvenir for friends or families who haven't been to Canada.
Introduction
Canada is a country that boasts natural beauty, diverse culture, and rich history. It is a land of vast landscapes, from the Rocky Mountains to the Great Lakes, and home to some of the world's most iconic landmarks. For anyone planning a trip to Canada, exploring these landmarks is a must-do activity. Not only do they offer breathtaking views and experiences, but they also provide insight into the country's history and culture. From Niagara Falls to Notre-Dame Basilica, each landmark has its unique story to tell. To make your visit even more memorable, consider taking home a souvenir like the Famous Landmarks Mug. This retro-inspired mug features famous Canadian landmarks printed on both sides and comes with a gift box for easy gifting. With its durability and safe design, it is perfect for enjoying hot or cold beverages while reminiscing about your unforgettable trip to Canada. So pack your bags and get ready to explore Canada's top 5 landmarks for an experience you'll never forget!
1. Niagara Falls
Niagara Falls is one of the most famous natural wonders in Canada, located on the Niagara River at the international border between Canada and the United States. The falls consist of three separate waterfalls: Horseshoe Falls, American Falls, and Bridal Veil Falls. Together they form the highest flow rate of any waterfall in the world.
History and significance
The history of Niagara Falls dates back to over 12,000 years ago when glaciers melted and formed a large lake known as Lake Erie. As the water flowed into Lake Ontario, it passed through what is now Niagara Falls. The falls were formed when the Niagara River eroded through layers of rock to create a steep canyon that eventually led to the formation of three distinct waterfalls.
Niagara Falls has been a popular tourist destination since the early 19th century when visitors began flocking to see its beauty and power. Over time, it has become an important symbol of Canadian identity and an iconic landmark for tourists from all over the world.
In addition to its natural beauty, Niagara Falls also holds cultural significance for Indigenous peoples who have lived in the area for thousands of years. The Haudenosaunee people consider Niagara Falls to be a sacred site where they believe their creator gave them their laws and traditions.
Best ways to visit
There are many ways to experience Niagara Falls, but some are more popular than others. One of the best ways to get up close and personal with the falls is by taking a Maid of the Mist boat tour. This tour takes you right up to Horseshoe Falls where you can feel its misty spray on your face.
For those who prefer a bird's-eye view, visiting Skylon Tower is a great option. This tower offers panoramic views from 775 feet above ground level. You can also dine at one of two restaurants located in Skylon Tower while enjoying breathtaking views.
Another popular attraction near Niagara Falls is Clifton Hill which offers an array of entertainment options such as haunted houses, museums, arcades, and more.
2. CN Tower
The CN Tower is an iconic landmark of Toronto, Canada, and it is considered to be one of the most recognizable symbols of Canada worldwide. The tower was built in 1976 and it stands at a height of 553 meters, making it the tallest freestanding structure in the Western Hemisphere. The tower has held various records throughout its history, such as being the world's tallest freestanding structure until 2007.
The CN Tower has a rich history that dates back to the early 1960s when Canadian National Railway decided to build a communication tower to improve television and radio signals in Toronto. Construction began in February 1973 and took over three years to complete. The tower opened on June 26, 1976, and since then, it has become one of the most visited tourist attractions in Canada.
The significance of the CN Tower goes beyond its impressive height. It is a symbol of engineering excellence and innovation that showcases Canada's technological advancements. The tower has also played an important role in broadcasting events such as the Olympic Games and World Cup Soccer.
Visitors can explore the tower through various attractions such as glass floor panels that provide a thrilling view of the ground below or take an elevator ride up to one of three observation decks for panoramic views of Toronto cityscape. In addition, visitors can try EdgeWalk which is an experience that allows them to walk around the outside edge of the main pod at a height of 356 meters above ground level.
The best time to visit CN Tower is during sunset when visitors can witness breathtaking views over Lake Ontario and enjoy dinner at one of its restaurants while admiring stunning views from above. Visitors should also consider visiting during weekdays when there are fewer crowds or purchasing tickets online beforehand to avoid long lines.
3. Banff National Park
Banff National Park is located in the Canadian Rockies and is Canada's first national park. It was established in 1885 to protect the natural hot springs that were discovered in the area. Today, Banff National Park is a popular destination for tourists from around the world who come to see its stunning natural beauty.
History and significance
The history of Banff National Park dates back to the late 1800s when railway workers stumbled upon a series of natural hot springs in the area. Recognizing their potential as a tourist attraction, the Canadian government quickly moved to protect the area and establish it as a national park. Today, Banff National Park is not only known for its hot springs but also for its stunning mountain scenery, glaciers, and wildlife.
Banff National Park has significant cultural importance as well. The park sits on Treaty 7 territory, which includes land that Indigenous Peoples have called home for thousands of years. Visitors can learn about Indigenous culture at various interpretive sites throughout the park.
Best ways to visit
Visitors to Banff National Park can enjoy a wide range of activities year-round. During the summer months, hiking and camping are popular activities. There are over 1,000 miles of hiking trails throughout the park that offer breathtaking views of mountains, lakes, and glaciers.
During winter months, skiing and snowboarding are popular activities at one of three ski resorts within or near Banff: Mount Norquay Ski Resort, Lake Louise Ski Resort, and Sunshine Village Ski Resort.
For those who prefer a more relaxed pace, there are plenty of opportunities for sightseeing throughout the park. Visitors can take scenic drives along Bow Valley Parkway or Icefields Parkway or take a dip in one of several hot springs located within the park.
4. Parliament Hill
Parliament Hill is located in the heart of Ottawa, Canada's capital city. It is a beautiful and historic site that is a must-visit for anyone traveling to Canada. The hill is home to the Parliament of Canada, which houses the House of Commons and the Senate. The buildings on Parliament Hill are some of the most iconic landmarks in Canada.
History and significance
The history of Parliament Hill dates back to the early days of Canada's formation as a country. The original parliament buildings were built in 1859 but were destroyed by fire in 1916. They were rebuilt shortly after and have been used ever since.
One of the most significant features of Parliament Hill is the Peace Tower, which was built to commemorate Canada's contribution to World War I. The tower stands at over 90 meters tall and can be seen from all over Ottawa.
In addition to the Peace Tower, there are several other important monuments on Parliament Hill. These include statues of Queen Victoria and Sir John A. Macdonald, two important figures in Canadian history.
Best ways to visit
If you're interested in learning more about the history and architecture of Parliament Hill, we recommend taking a guided tour of the buildings. These tours are offered daily and provide an excellent opportunity to learn about Canada's government.
Another great time to visit Parliament Hill is during the summer months when you can witness the Changing of the Guard ceremony. This ceremony takes place every day at 10:00 am from late June until late August and involves a military parade with music and marching.
Finally, if you're visiting Ottawa during winter months, be sure to check out the Christmas Lights Across Canada display on Parliament Hill. This stunning light show features thousands of lights illuminating many landmarks across Ottawa including Parliament Hill.
5. Notre-Dame Basilica
The Notre-Dame Basilica is one of the most iconic landmarks in Montreal, Quebec, and Canada as a whole. The basilica was built in the early 19th century and has since become a significant cultural and historical landmark in the city. The architecture of the basilica is an excellent example of Gothic Revival style, with its intricate details and stunning stained glass windows.
History and significance
The history of the Notre-Dame Basilica dates back to the early 1800s when James O'Donnell, an Irish-American architect, was commissioned to design it. The construction began in 1824 and took four years to complete. Since then, it has undergone several renovations to maintain its beauty and structural integrity.
The basilica has played a significant role in Montreal's history. It was here that Celine Dion got married, making it a popular wedding venue for locals and tourists alike. Additionally, it has hosted many important events over the years, including visits from Pope John Paul II.
One of the most impressive features of the basilica is its grand pipe organ. It was installed in 1891 and remains one of North America's largest organs with four keyboards and over 7,000 pipes.
Best ways to visit
Visiting Notre-Dame Basilica is a must-do activity for anyone visiting Montreal or Quebec. There are several ways to make your visit memorable:
Attend a mass or concert: The basilica hosts regular masses that are open to the public. Attending a mass can be an excellent way to experience the spiritual side of this historic landmark. Concerts are also held regularly at the basilica featuring world-renowned musicians.

Take a guided tour: A guided tour is an excellent way to learn about the history and architecture of Notre-Dame Basilica. During these tours, knowledgeable guides will take you through various parts of the church while explaining their significance.

Enjoy light show: Another unique experience at Notre-Dame Basilica is Aura - A mesmerizing light show that showcases different aspects of church art with music playing in background.
In conclusion, visiting Canada's top landmarks like Niagara Falls, CN Tower Banff National Park Parliament Hill & Notre-Dame Basilica can give you memories for lifetime.The Famous Landmarks Mug can be perfect souvenir for you & your friends/family members who loves traveling & exploring new places all around world especially Canada!