Satisfy Your Sweet Tooth with Maple Syrup Lollipops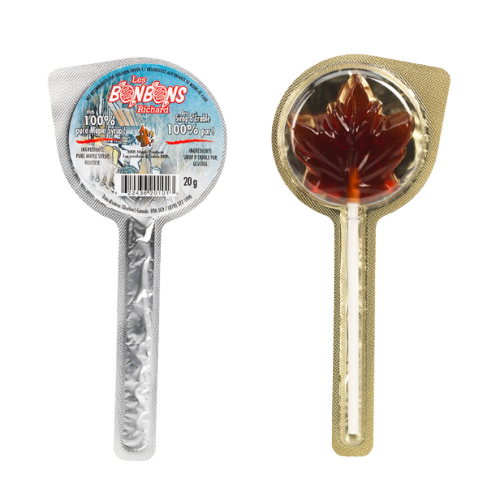 Bonbons 100% Maple Syrup Lollipop Case 54*20g
Description:
Flavour: Maple Syrup
Type: Individually Wrapped, Lollipop

This product is used in its natural state without any colour or any other additive. 
Made in Canada
Introduction
Are you a fan of sweet treats? Look no further than Maple Syrup Flavoured Lollipops! These delicious candies are made with all-natural maple syrup sourced from Canada, providing an authentic taste that is both convenient and fun. In this blog post, we will explore five delicious ways to enjoy Maple Syrup Lollipops. Whether you're looking for a quick snack or a unique ingredient for your next baking project, these lollipops have got you covered.
Savour the Sweetness Anytime, Anywhere
One of the best things about Maple Syrup Lollipops is their portability. These individually wrapped candies are perfect for on-the-go snacking. Simply toss them in your bag or pocket and enjoy a sweet treat whenever the mood strikes. They're also great for a mid-day pick-me-up at work or school, providing an energy boost without the crash that comes with sugary snacks. If you're heading out on a road trip or hike, be sure to bring along some Maple Syrup Lollipops for a tasty and convenient source of fuel.
A Versatile Treat for Snacking and Baking
Maple Syrup Lollipops aren't just great for snacking - they can also be used as a versatile ingredient in all kinds of recipes. Add them to your trail mix or granola for a sweet crunch that will keep you coming back for more. Crush them up and sprinkle over ice cream or yogurt for a fun and unique topping. Looking to impress your guests at your next party? Use Maple Syrup Lollipops as a garnish for cocktails or mocktails - they'll add both sweetness and visual interest to your drinks. And if you're feeling adventurous in the kitchen, try incorporating these lollipops into your baking projects - they'll add a delicious maple syrup twist to classic desserts like cookies, brownies, and cakes.
Indulge in a Taste of Canada
Canada is known around the world for its high-quality maple syrup, and Maple Syrup Flavoured Lollipops provide an authentic taste of this beloved Canadian ingredient. By choosing these lollipops, you're supporting Canadian farmers and producers who work hard to bring this delicious product to market. If you're planning a Canadian-themed event or looking for unique gifts to give friends and family, consider including Maple Syrup Lollipops as part of your celebration.
Discover the Benefits of Maple Syrup
Not only do Maple Syrup Lollipops taste great - they also offer some surprising health benefits! Unlike refined sugar, which can cause blood sugar spikes and crashes, maple syrup has a lower glycemic index that provides sustained energy without the negative side effects. Additionally, maple syrup contains antioxidants and anti-inflammatory compounds that can help protect against disease and inflammation in the body. It's also rich in essential minerals like zinc and manganese that support overall health.
Gift Ideas for Lollipop Lovers
Looking for unique gift ideas? Consider giving the gift of Maple Syrup Flavoured Lollipops! These candies make great additions to gift baskets filled with other Canadian treats like maple cookies or butter tarts. They're also perfect as party favors or stocking stuffers - kids (and adults!) will love their sweet taste and fun packaging. For an extra special touch, consider personalizing lollipop wrappers with custom designs or messages - they make great wedding favors or gifts for special occasions.
In conclusion, there are many reasons why Maple Syrup Flavoured Lollipops are worth trying out! From their convenience as an on-the-go snack to their versatility as an ingredient in recipes both sweet and savory, these lollipops offer something for everyone. And with their authentic taste of Canada's beloved maple syrup industry combined with surprising health benefits like antioxidants and essential minerals, there's even more reason to indulge in this sweet treat today!