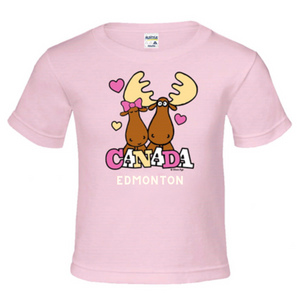 Edmonton T-Shirt Kids Love Moose Pink
Regular price
$17.99
$0.00
Unit price
per
"Discover Adorable Kids Pink Tee with Local Edmonton Love - A Must-Have from Happy Leaf Canada!
Elevate your child's wardrobe with our charming Kids Pink Tee featuring a delightful Love Moose design and a special Edmonton touch. Created by Happy Leaf Canada, this tee adds a touch of local flair to your little one's style, making it a must-have addition to their collection.
🦌 Whimsical Love Moose Design: Our pink tee showcases a cute Love Moose design that resonates with kids' playful spirits while celebrating the beauty of nature. 👧👦 Specially Crafted for Kids: The tee is thoughtfully designed to provide a comfortable and stylish fit for your active youngsters, making it ideal for their daily adventures. 🏞️ Local Edmonton Pride: With the inclusion of Edmonton, this tee becomes a wearable emblem of local pride, letting your child carry a piece of their beloved city wherever they go.
Why Choose Our Kids Pink Tee? 🌟 Premium Quality: Crafted with care, this tee ensures durability and comfort, keeping up with your child's energetic lifestyle. 🎨 Vibrant and Playful: The Love Moose design adds a touch of whimsy to your child's outfit, sparking joy and conversations wherever they go. 💧 Easy Care: Busy parents will love the easy-care instructions – a quick wash and it's ready for more adventures!
Join the Happy Leaf Canada Family: At Happy Leaf Canada, we're all about creating joyful moments and celebrating the wonders of nature. Our Kids Pink Tee with Edmonton Love lets your child be a part of our vibrant community that values creativity, local pride, and the magic of childhood.
Make dressing up an adventure with our Kids Pink Tee. Order now and infuse your child's wardrobe with the adorable Love Moose design and Edmonton's local spirit!"
Shop now to bring a piece of Edmonton home with the Happy Leaf Canada collection.
---
Share this Product
---